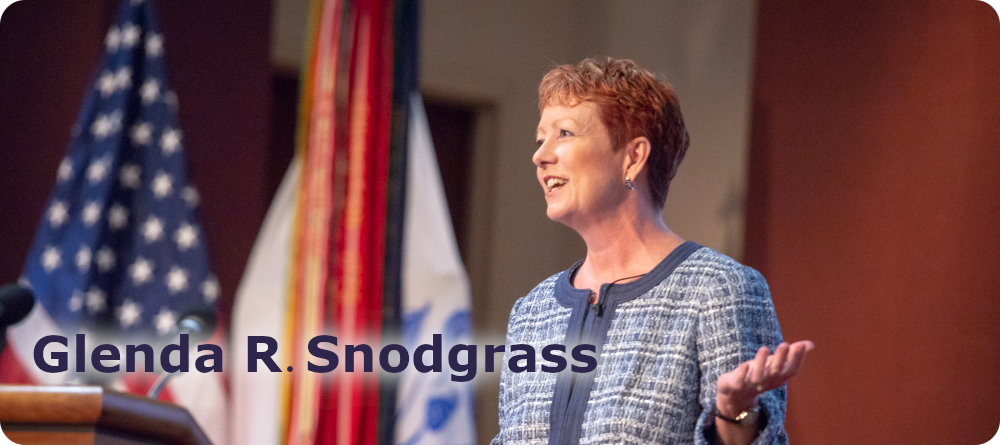 Glenda R. Snodgrass has been President and Lead Consultant at The Net Effect since its inception in 1996.

Her dynamic personality and effective teaching style have made her a sought-after public speaker, corporate trainer, expert witness and workshop host across the Southeast for more than twenty years.

Glenda's bio and photos are available here.

Her current speaking schedule is available here and comments on her presentations may be found here.
Contact Glenda now to discuss booking her for your next meeting!
Past Events
2023


September 12, 2023
When Worlds Collide: Securing Cyber-Physical Systems
GSX 2023
Dallas, TX


April 14, 2023
Understanding GLBA Cyber Security Requirements
Gulf States FPA
Mobile, Alabama


April 6, 2023
Into the Weeds of CMMC
Mid-South Chapter NCMS Annual Seminar
Huntsville, Alabama


March 9, 2023
Critical Infrastructure Protection & Resilience North America
Implementing the NIST CSF
Baton Rouge, LA

2022
December 14, 2022
When Worlds Collide: Securing Cyber-Physical Systems
Alabama Corporate Security Symposium
Auburn, Alabama


November 15, 2022
Implementing the NIST CSF
Virtual Workshop


November 9, 2022
Into the Weeds of CMMC
Virtual Workshop


October 25, 2022
Charleston ASIS
Surviving the Cyber Pandemic
Virtual


October 18, 2022
Mobile Chamber Executive Roundtable
Changing Perspectives on Cybersecurity
Mobile, AL


October 11, 2022
West Mobile Rotary Club
Surviving the Cyber Pandemic
Mobile, AL


October 6, 2022
ITEN WIRED
2021-2022: The New Epoch of Cybersecurity Requirements
Pensacola, FL


September 15, 2022
Emerald Coast NCMS Annual Training Seminar
Into the Weeds of CMMC: NFO controls, Asset Categories and the CAP
Fort Walton Beach, FL


July 26, 2022
South Alabama Non-Profit Summit
Changing Perspectives on Cybersecurity
Mobile, AL


June 21-23, 2022
58th NCMS National Seminar (website)
the User is Not the Enemy
Minneapolis, MN


June 29, 2022
NASA Procurement Opportunities Forum 2022
Putting CMMC 2.0 into Perspective
Mobile, AL


April 26, 2022
North Baldwin Chamber of Commerce
Surviving the Cyber Pandemic
Bay Minette, AL


April 7, 2022
Critical Infrastructure Protection & Resilience North America 2022 (website)
When Worlds Collide: Securing Cyber-Physical Systems
New Orleans, LA


March 16, 2022 South Alabama Chapter, ASIS International
Surviving the Cyber Pandemic
Zoom


March 10, 2022 Oceans in Action Port Security Conference (website)
Cyber Security for the Supply Chain
Biloxi, MS


February 22, 2022
Alabama SBDC Procurement Conference (website)
Understanding the CMMC (Cybersecurity Maturity Model Certification)
Mobile, AL


February 17, 2022
SouthWare Partner Alliance Winter Training (website)
Securing your Financial Environment
Virtual

2021
Octobber 19, 2021
Mobile Chamber Executive Round Table
Risk Averse: Managing Cybersecurity Risk in the Post-Pandemic World
Mobile, Alabama


Septemer 16, 2021
Emerald Coast NCMS Annual Symposium
Surviving the Cyber Pandemic
Fort Walton Beach, FL


June 24, 2021
Public Relations Council of Alabama
The Impact of COVID-19 on Cybersecurity
Mobile, AL


2020
October 30, 2020
Baldwin County Bar Association Annual CLE Seminar
Ethical Duties to Safeguard Client Information
Bay Minette, AL


October 20, 2020
Mobile Chamber Executive Roundtable
The Ways We Leak Data
Bay Minette, AL


March 11, 2020
Cyber Security Workshop (website)
Cyber Security Requirements for Federal Contractors & Suppliers
Gulfport, MS


January 14, 2020
Cyber Security Workshop (website)
Cyber Security Requirements for Federal Contractors & Suppliers
Mobile, AL

2019
November 14, 2019
HIMSS GC3 Annual Conference
Biloxi, MS
Implementing the NIST Cyber Security Framework


November 13, 2019
2019 Alabama Global Supply Chain & Logistics Summit
Mobile, AL
Securing the Supply Chain


October 29, 2019
Marshall Space Flight Center Small Business Executive Leadership Team
Mobile, Alabama
Cybersecurity Requirements for Federal Contractors


October 18, 2019
Gulf Coast ISAC
New Orleans, LA
Social Engineering: The Art of the Con


October 15, 2019
Alabama Association of Regional Councils Annual Meeting
Gulf Shores, Alabama
Cybersecurity Requirements for Federal Contractors


October 15, 2019
Executive Round Table
Mobile Area Chamber of Commerce
Mobile, Alabama
Social Engineering: The Art of the Con


October 4, 2019
ItenWired 2019 (itenwired.com)
Pensacola Beach, FL
Implementing the NIST Cyber Security Framework


September 19, 2019
Emerald Coast NCMS Annual Symposium
Fort Walton Beach, FL
Using the DFARS Controls to Defeat The 'Accidental' Insider Threat


August 8, 2019
Gulf Coast Real Estate and Economic Education Conference
Mobile, Alabama
Perspectives on Cyber Security


June 12, 2019
Greater Pensacola Society of Human Resource Managers
Pensacola, FL
Social Engineering: The Art of the Con


April 26, 2019
SouthWare 2019 User Conference
Stone Mountain, GA
Protecting Information in the Digital Age


March 20, 2019
Mobile Joint Terrorism Task Force
Mobile, AL
Cyber Space: Battleground for Counter Terrorism


March 20, 2019
Mississippi Corporate Security Symposium
Bilox, MS
The "Accidental" Insider Threat


2018



November 13, 2018
Baldwin County Bar Association
Bay Minette, AL
Mitigating Cybersecurity Risk


October 17, 2018
Mobile ASIS
Mobile, AL
Digital Immortality


October 1, 2018 2018
ItenWired 2018 (itenwired.com)
Pensacola Beach, FL
When Worlds Collide: Cyber-Physical Systems Security


September 13, 2018
NCMS Emerald Coast Annual Symposium
Fort Walton Beach, FL
Cyber Crime & Social Engineering


August 9, 2018
Gulf Coast Technology Council
Mobile, AL
Cyber Security Risk, Liability & Insurance (panel)


July 17, 2018
Team Redstone Annual OPSEC Day
Redstone Arsenal
Huntsville, AL
Uh-Oh Is Forever


April 4, 2018
NCMS Huntsville Annual Meeting
Huntsville, AL
Cyber-Physical Systems Security


January 16, 2018
City of Semmes Council Meeting
Semmes, AL
Cyber Security Risk Management
2017



October 10, 2017
ItenWired 2019 (itenwired.com)

Pensacola Beach, FL
You Can't Secure It If ...


August 31, 2017
Public Relations Council of Alabama
Mobile, AL
Cyber Self Defense: Protecting Your Online Identity


October 17, 2017
Mobile Area Chamber of Commerce
Executive Roundtable
Mobile, AL
The Business Owner's Guide to Assessing & Mitigating Risk


July 31, 2017
Louisiana - Mississippi Labor-Management Conference
Bilox, MS
Cyber Self Defense: The Threats that Surround


July 18, 2017
Team Redstone Annual OPSEC Day
Redstone Arsenal
Huntsville, AL
The Ways We Leak Data


July 10, 2017
Mississippi State Bar Annual Summer School
Sandestin, FL
Mitigating Cybersecurity Risk: Ethical Duties to Safeguard Client Information


April 19, 2017
Alabama HIMSS Spring Conference
Huntsville, AL
Assessing Cyber Security Risk: You Can't Secure It If ...


April 22, 2017
PMI Emerald Coast FL - 2017 Spring Professional Development Symposium
Niceville, FL
Cyber-Physical Systems Security
2016



November 17, 2016
Emerald Coast PMI Professional Development Symposium
Niceville, FL
Assessing Cyber Security Risk: You Can't Secure It If ...


October 26, 2016
Gulf Coast Industrial Security Awareness Council
New Orleans, LA
Ransomware Defense


October 13, 2016
ItenWired 2019 (itenwired.com)
Pensacola Beach, FL
Cyber Crime & Social Engineering


October 6, 2016
Misssissippi State Bar CLE on the Road
Columbus, MS
Mitigating Cybersecurity Risk: Ethical Duties to Safeguard Client Information


September 15, 2016
NCMS Emerald Coast Fall Seminar
Fort Walton Beach, FL
Cyber Crime & Social Engineering


July 2016
Team Redstone Annual OPSEC Day
Redstone Arsenal
Huntsville, AL
Social Engineering Defense: The Insider Threat may be YOU!


June 8, 2016
Greater Pensacola Society of Human Resource Managers
Pensacola, FL
Mitigating Cyber Security Risk for the HR Professional


April 15, 2016
Emerald Coast PMI Professional Development Symposium
Niceville, FL
Mitigating Cyber Security Risk


April 13, 2016
Gulf Coast Technology Council
Mobile, AL
Big Data and the Internet of Things


March 9, 2016
University of West Florida
Pensacola, FL
Cyber Self Defense: Protecting Your Online Identity


2016
SouthWare Partner Alliance Spring Meeting
Atlanta, GA
Cyber Self Defense: The Traveller's Dilemma
2015



November 20, 2015
Mobile Association of Certified Fraud Examiners Fall Seminar
Mobile, AL
Cyber Self Defense: Protecting Your Online Identity


October 14, 2015
ItenWired 2019 (itenwired.com)
Pensacola Beach, FL
Cyber Self Defense: Protecting Your Online Identity